Active Dates: 1/1/16-12/31/22
Health Disparities for Your Practice
Now worth 40 CME 1 credits!!!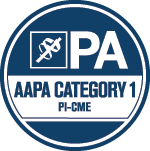 Did you know that close to 1 million deaths would have been averted between 1991-2000 if mortality rates between Caucasians and African Americans were equalized?

Did you realize there are different recommendations for health screenings by race? Gender? Nationality?

Have you ever considered that the 'non-compliant' patient may be hard of hearing? Illiterate? Even in their native language?


Have you ever even heard of numeracy literacy?

Even when PAs think they are doing an excellent job, Outside found more than 80% of practices were not meeting national standards in heath disparities?!

We have experts who can help...


Outside the Box is an AAPA-certified PI-CME that you can do in a few easy steps:
(1) Order via the PayPal button below
(2) Review 10 random charts (within your practice) answering the simple questions we pose
(3) Figure out where you are weak and change that behavior using tools we give you
(4) Thirty days later, review 10 random charts to see if you made a difference...
If you did, GREAT...If you didn't, at least you tried
(5) You get 40 units of PI-CME no matter the outcome! All for the low, low cost of $25 (we are a non-profit)
Every practice has some type of health disparity and only by looking at our practices can we find our flaws... Let us help You!