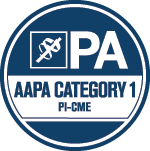 Active Dates: 9/1/22-12/31/24
The goal of health care is to help patients. Sometimes, social situations can keep us from helping.
Z codes is a 30-day project to tie social issues to a disease diagnosis. Researchers need to know what specific chronic disease states interact with what social driver (IE: literacy or employment or insurance).
Z codes were developed in 2018, but <2% of all charts are coded with Z codes
PAs, as a group, have a chance to change this, while collecting 20 CME 1 credits at the same time!
(Note: NCCPA will DOUBLE this to 40 CME 1)
Zero in on Z codes asks you to develop a mechanism to code Z codes in YOUR practice.
You must be in clinical practice to participate
You need to design some way to add Z codes to charts
Maybe at the nurse, front desk, you?!
Then after trying your brilliant idea for 30 days
Tell us how it went and if it worked
We know not everything will work…
We are desperate to get this info out there. So, we are offering this at cost
$10/project
Just click on the link and order it!
Ask about our special Conference Pricing
Add 20 CME 1 to your Conference offerings! kim.zuber@aanpa.org